Having bought a model ship, the unicorn, for a pound off a market stall, Tintin is initially puzzled that the sinister, Mr. Ivanovich Sakharine should be so eager to buy it from him, resorting to murder and kidnapping Tintin - accompanied by his marvelous dog Snowy - to join him and his gang as they sail to Morocco on an old cargo ship. Sakharine has bribed the crew to revolt against the ship's master, drunken Captain Haddock, but Tintin, Snowy and Haddock escape, arriving in Morocco at the court of a shiekh, who also has a model of the Unicorn.
Haddock tells Tintin that over three hundred years earlier, his ancestor Sir Francis Haddock was forced to scuttle the original Unicorn when attacked by a piratical forebear of Sakharine but he managed to save his treasure and provide clues to it's location in three seperate scrolls, all which were secreted in models of the Unicorn.

After over 30 years, Spielberg finally brings the iconic Herge' comic to life. I get the chance to see it earlier in Robinson's Metro East and the wait is totally over. So, here it goes, waiting for the film to roll and still can't get over with the popcorn and 3D glasses in my eyes. Light's off!
Trailers ahead. First, the trailer for Martin Scorsese's Hugo 3D, which was pretty cool in 3D. Second, the trailer for Madagascar: Europe's Most Wanted, which was kinda surprising, at the same time, very disappointing. And third, The Lorax. After the trailers are rolled, here we are, the featured film.


The Adventures Of Tintin: Secret Of The Unicorn was based on the popular Herge comic serial, "The Adventures Of Tintin". Herge, which admires Raiders Of The Lost Ark, he said to Steven Spielberg that he's perfect to do a Tintin movie. According to sources, Spielberg originally should made Tintin as a live-action film. But Spielberg comes in the moment to make the Herge comic as an animated film, considering The Polar Express as a good example of the next-big-thing, Spielberg, along side with Peter Jackson, decides to make Tintin with the use of motion capture technology, with the help of WETA Workshop.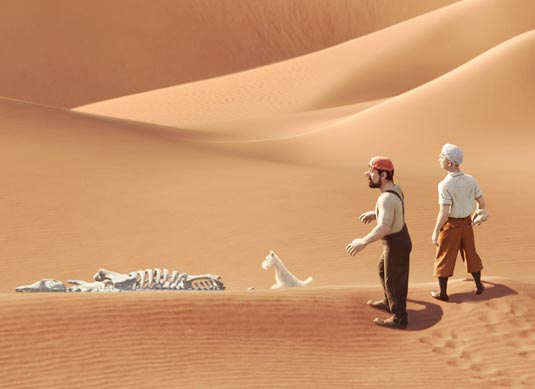 Tintin is the best animated film I have seen this year. With the touch of Indiana Jones and Pirates Of The Carribean, all I can say is it's really awesome. I love how Spielberg primarily made this very moving and action-packed that I come up with the point that i'm so reading the comics now. Spielberg and Jackson made a very good job collaborating in this film. Spielberg and Jackson was the most visionary filmmakers who can make a simple comic serial into a realistic animated 3D film like this.
For the performances with this one, it was fantastic. Jamie Bell, who was known as Billy Eliot, did a great performance portraying Tintin. At first I saw the casts who will be joining Tintin, I thought Jamie Bell will disappoint me here. I was always wrong and guess what, he did a great performance capture here. Andy Serkis, known as the performance capture king, obviously made a extraordinary job in here. I couldn't believe that he portrayed that role, I think about Haddock. He was unbelievable in this film and great job Andy! All casts did a great job with this film and I couldn't stop thinking if what will happen if Spielberg continues making the film in live-action.
One main thing why this film rocks is the 3D. The 3D was really well used in this film and surprisingly, there's no 3D gags or stuffs are well handled here. 50 percent of the film was set in night, and woah, I have really no problem there. I thought the 3D will be disappoint me during a night scene and well, I actually enjoyed it. What really enjoys me with the 3D is the very beautiful landmark. There's one scene in the chase scene in the film that gives me a vertigo and ughh, that's the first time that happened to me while watching a film in 3D.
The action scenes in the film is really, really well done. I thought before watching this film, the action will be that short, and well, that's the main show for this film. The chase scene in this film is very long, which actually enjoys me, alongside with that 3D glasses in my eyes. You will be fascinated with the action and landmarks of the film and you will leave the theater with the child-like face.
I hope the film could become much more longer. I guess the film goes around in like 1 hour and 45 minutes I guess, and that's a short duration for an anticipated film like this. Well, it's still fine and I hope to see it again in IMAX 3D by this week. By the way, this is the first film I guess, in the proposed Tintin trilogy by Spielberg and Jackson.
Fine Editing. Awesome Soundtrack. Awesome Performance. Ughhmazing Animation. Awesome Cinematography. Awesome Direction. Just the right way to describe a film like this.
The geek rates it 9.8/10.