Four Words. Best Superhero Movie Ever.
Set within a year after the events of Batman Begins, Batman, Lieutenant James Gordon, a new district attorney Harvey Dent successfully begin to round up the criminals that plague Gotham City until a mysterious and sadistic criminal mastermind only known as the Joker appears in Gotham, creating a new wave of chaos. Batman's struggle against the Joker becomes deeply personal, forcing him to "confront everything he believes" and improve his technology to stop him.

After seeing the very awesome Batman Begins, there comes The Dark Knight. Well, The Dark Knight was one of my anticipated film way back 2008. I was really stalking this film a whole lot of time just to read some information about the sequel. I saw it in theaters for about 3 times and just this week, I just bought the 2-Disc DVD to re-watch it again. I'm planning to review this film a month ago, so, because of the hectic schedule, I just got the chance to write it today.
Like what you hear from other various critics, The Dark Knight is the best superhero movie ever made. Well, that's true. The Dark Knight will leave you mind-blown for over 2 1/2 hours of non-stop action. I was impressed at the action sequences especially the opening heist scene or what do they call the 'prologue'. I remember watching that scene for the first time, I was literally jaw-dropped. It was a good teaser for the Joker and also it tells you, in the next 2 hours, will be the most awesome, mind blowing movie experience you will ever had. That's what really happened to me. When I saw the closing credits appearing in the screen, I was kinda sad because the movie is finished. Another reason why I love this movie is the amazing performances by ALL actors.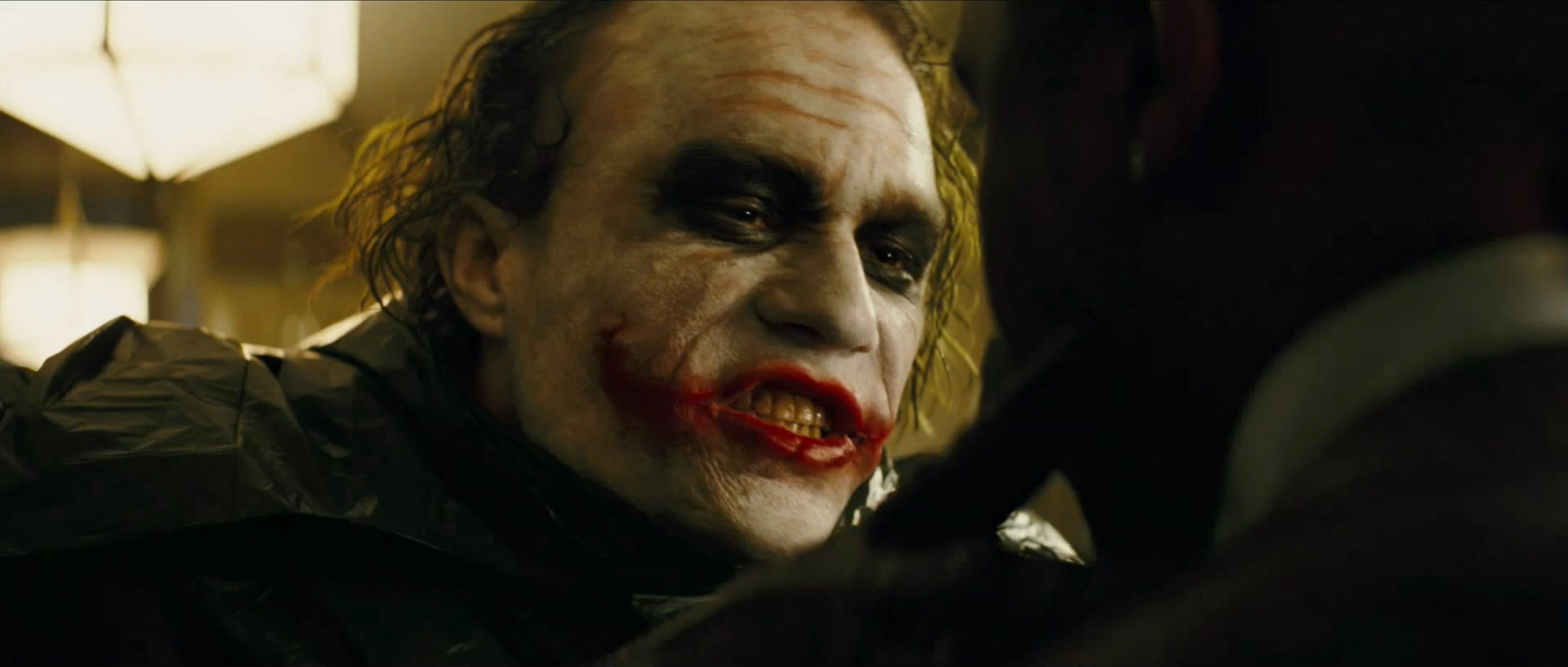 Christian Bale is the most perfect and the best Batman ever. I was really not expecting him as a good Batman before watching Batman Begins. He was really dedicated for his role and it's just Bale portraying himself which totally fits for Bruce Wayne. Heath Ledger, oh my God, he was really stellar and just brilliant as Joker. Heath was only known for his hunkness and charmness in Teen romantic movies way back in 90s. So, I don't have hope for him being a good Joker. I was totally wrong. Heath's Joker becomes my Best Villain in movie history. He was totally a good villain that sometimes you enjoy watching him burn the buildings and sometimes he totally annoys you that you want to smash him into pieces. His Oscar was deserved for Heath so, Rest In Peace Heath Ledger.
Same as Batman Begins, The Dark Knight has a great cinematography. Selected scenes from the movie was shot in IMAX. Unfortunately, I didn't get the chance to see it in IMAX because the IMAX theatre was far from our house. But according to other reviews, I hear some praises for the IMAX experience. If there's some re-runs of this movie in IMAX, of course, I will see it. And I will made a review based on my experience.
Overall, this film is spectacular. All elements of the film is perfect. The Dark Knight Rises will be this year's Harry Potter and the Deathly Hallows Part 2. It will surely hit the box-office and obviously, will be or might be the most epic one in the series.
The geek rates it 10/10. There's nothing more brief to explain why I like this film. Just see the film for yourself.
For now, why not check the opening heist scene or the 'prologue' in The Dark Knight: